The elaborated televised fight to the death Hunger Games has made a significant impact on the people. The series portrayed two teenagers chosen randomly from all twelve Districts of Panem to fight to the death. The series has been a raging success. Among the several things that people liked about the series, the outfits had become largely popular with the people.
Most people would do anything to see those outfits up close and personal. Las Vegas would offer you an opportunity to make your vacation a memorable experience. Among the several attractions that you would explore at Las Vegas, the Hunger Games Set is the latest addition. You would relish the experience of being a part of the rebellion. You would witness the spectacular architectural designs long with special lighting effects to highlight the iconic costumes and props to provide you with a great cinematic experience.
Are you a fan of the popular Hunger Games books and movies? You would not miss Las Vegas showing the Hunger Games exhibition for anything. The latest attraction at Las Vegas is a must-watch. The Hunger Games set features a gripping archery training experience. The set decoration, props, and 30 original costumes would astound you.
You would come across several costumes on display inclusive of the Girl on the Fire dress, Peacekeeper armor, the Mockingjay gown, rebellion tactical gear, and the Mockingjay armor & pin. You would also come across the bow and arrows used by Katniss. The Las Vegas Hunger Games set would come with a retail shop to offer you fashionable clothing and collectible items.
The exhibition would cater to you with original props from the series. You would be able to see it closely. With a plethora of items displayed from the movie, you would be spoilt for options. The exhibition provides you a chance to appreciate the work and detail put in to capture the world in the series. You are allowed to take pictures with your favorite prop. The Hunger Games set would enable you to make the most of the unique experience. You would love to share the pictures with your family and friends.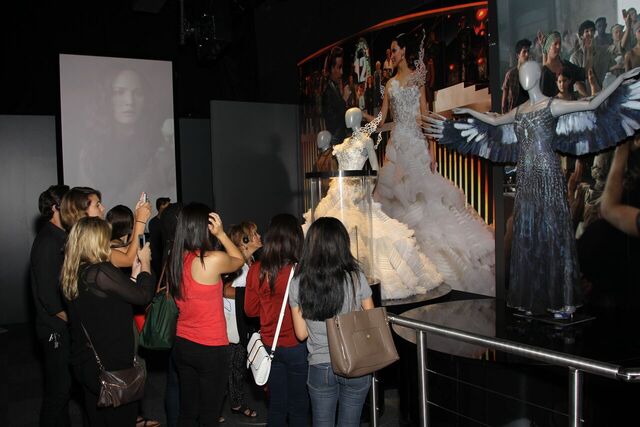 If you were looking forward to learning more about the Hunger Games series, the exhibition offers you digital interactive features. It will help you go through the history along with exploring the Panem map using touch screen displays.
The retail shop would enable you to take home Hunger Games merchandise developed specifically for the Las Vegas Hunger Games exhibition.